Benefits of a Web-Based Service
---
Web-Based services have been called many things over time including "on-demand software," "Application Service Provider (ASP)", "hosted software", or "Software as a Service (SAAS)". The basic principle of a web-based service is that a software application is hosted by a vendor on the Internet and charged as service that is provided.
The key benefits of using a web-based service over a stand-alone software product are as follows: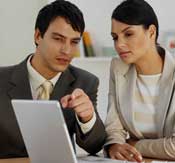 No initial cost: The requirement to pay large amounts of money to implement a complex system across an entire company is removed. Customers can instead roll out a web-based service without additional purchases of hardware, software, storage, scanners, digitizers or personnel. Very few valuable IT resources are needed to deploy our web-based service.
Global Access: A very important benefit of a web-based service is the globally accessible nature of the service. Offices from down the hall to around the world can securely access the same information. Dedicated lines between offices do not need to be established, instead existing Internet connectivity can be used. Divisions located in different geographic areas can instantly share resources such as accounting records, order status, and shipping information.
Implementation is simple: Software that is installed on each PC in a company can be a very complex project to install and support. One of the problems with workstation software is that it can require constant attention from your IT department to address conflicts, installations and upgrades. With a web-based service changes are made instantly keeping everyone current with the most up to date software. Web-based services can be tested and evaluated with very little effort, they also can be deployed instantly to all users in an organization. The only requirement a web-based service needs to be deployed is a workstation with a Internet connection and web browser.
No need to provide support or training: The need to provide dedicated staff to support a new application is eliminated with the use of a web-based service. All support and training are provided by the service provider. Web-based services are also usually easier and simpler to use. Expert support is always available and will free up many resources to focus on your core business applications.
Security: A web-based service provides the highest level of security. All transactions between the web-based service and the user are password protected and fully encrypted. Access to the service and data are firewall restricted to only authorized Internet addresses (IP addresses) and deploying the latest in data protection ensures your data is safeguarded from any unauthorized use.
Highest possible Quality Assurance: Using a web-based service provides the greatest expertise available. Subscribing to a web-based application service provider such as eWIX provides a vendor with a proven process to handle your needs in the most efficient way. NCD specializes in the conversion of hardcopy files and storing of digital images and has a process that ensures the highest possible quality.
No risk: Because there is no investment and service is paid for as it is used there is no risk to the customer. This is in contrast to software packages that cost thousands for licensing, support and additional hardware. Web-based services do not require annual support contracts and software upgrades.
Redundancy: By using our web-based service, backups for your crucial data are guaranteed. All data is backed up daily and mirrored locally and to an alternate location to provide uninterrupted access. eWIX provides the strictest IT policies to ensure data is never lost or destroyed. In addition, NCD also uses a co-location facility 150 miles away that is available should our primary hosting facility become unavailable. This co-location is constantly updated with the latest information and can be activated in a moments notice.
---
Latest News
---
NCD Medical Recieves 2009 Best of Willowick Award
June 8th,2009
WASHINGTON D.C., June 8, 2009 -- NCD Medical Corporation has been selected for the 2009 Best of Willowick Award in the Hospital Equipment & Supplies category by the U.S. Commerce Association (USCA).
Read More...
---