eWIX: Store & Scan on Demand Service
---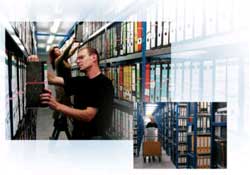 NCD offers companies a service to transfer, store, manage and digitize paper records or X-ray film on an as needed basis using eWIX: Store & Scan On Demand. Companies can begin using electronic document management by storing paper and film records without any investment in hardware, software, or training.
Free up storage area at your facility by moving all your stored records to eWIX. Requests for documents can be made at anytime using an intuitive web-base interface. Digitized records and film are made available for on-line download and viewing from any authorized web enabled workstation.
Medical facilities are trying to eliminate or minimize the use of X-ray film without the high cost of digitizing their entire inventory of film. NCD provides medical facilities storage of hard copy files and access to them electronically on an as needed basis. eWIX: Store & Scan On Demand represents a low cost, easy to use and easy to deploy alternative. Doctors and other authorized personnel will be able to instantly access X-ray images and/or medical records electronically from their hospital, clinic, office and home.
To learn more about eWIX: Store & Scan on Demand:
---
Scan on Demand
Cost Calculator
---