X-Ray Digitizing
---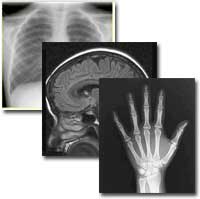 NCD Corporation can digitize film to the DICOM (Digital Imaging and Communications in Medicine) 3.0 format or many popular image formats. Images can be native, compressed 3:1 lossless, or lossy at high compression (generally acceptable for review purposes). Digitized film images are indexed using information provided by the customer or information present on the film. Most popular film sizes can be accommodated.
X-Ray film images are generally digitized at 177 micron spot size (142 DPI). The digitized images can be delivered using file transfer protocol (FTP/SFTP), e-Mail, or CD/DVD.
In addition to batch scanning of X-ray film we also provide Store & Scan On Demand and mini-PACS services to economically meet your digitizing needs.
The Store & Scan on demand service allows you to quickly and affordably access all of your existing X-ray film as needed. We store all of your X-ray film securely and pull the X-ray you need when it is requested. After the X-ray has been digitized it is made available for secure electronic delivery. This service provides a cost effective alternative to scanning all your film when a large portion of the film is never required.
The eWIX: mini-PACS service provides fast and reliable access to all of your digitized data in one central location. The mini-PACS service removes the need for you to manage your digital data on a large collection of optical discs or other media. Your X-ray images are always on-line and they can be quickly searched by criteria you provide such as Patient ID, Name, Date, Modality, etc.
Please contact us for a full analysis of your X-ray digitizing needs.
---
Latest News
---
NCD Medical Recieves 2009 Best of Willowick Award
June 8th,2009
WASHINGTON D.C., June 8, 2009 -- NCD Medical Corporation has been selected for the 2009 Best of Willowick Award in the Hospital Equipment & Supplies category by the U.S. Commerce Association (USCA).
Read More...
---